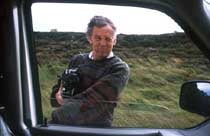 photo Anouk NATHAN

Who has never dreamed of travelling?
Who has never dreamed of choosing a country to visit, meeting new people and experiencing the daily life of other cultures?
Who has never dreamed, upon returning, of sharing these treasures through contact with big-story viewers in cultural centres interested in and avid for such knowledge?
In short, I am addressing you, my readers, who are keen to discover different temperatures and new smells under foreign skies, according to your own personal sensitivities. You are ready to travel, but not without a certain amount of forethought. I wish to explain here how I made the most of my own trips by the use of film.

My life and travels
My name is Luc Giard. I was born in Boulogne-sur-Mer in France in 1945. Before going into photography, the cinema and conferences in French-speaking communities I studied advertising and communications at Art School in Calais and Lille in France. Latin America occupied 18 years of my life as a reporter. I started to share my reports with slide shows in cultural centres and schools using two slide presentations :
- Peru (Inca survival 1974) and Ecuador (The Golden Ring, 1977)

Award and International Tours
The most important part of this phase was my trip to Mexico. For this trip I used a 16mm camera, as photography did not enable me to communicate movement. Living for six months in a Tarahumaras Indian community in western Sierra Madre in Mexico (with my wife and two-year-old daughter) enabled me to make this film. It was awarded the Grand Prix at the Royan travel film festival in 1981

From 1986 onwards I presented my work on Connaissance du Monde in France, to Grands Cinéastes lecturers in 18 African countries, on Grands Explorateurs in Quebec and on Exploration du Monde in Belgium.
During this time, four trips to Brazil enabled me to make a new film, 'La Folie Grandeur Nature' ('Life - Size Extravaganza')
Following this, thirty or so trips to England resulted in another film 'Lumières sur l'Angleterre' ('Lights over England') which is currently programmed in France.

Approach
When I concentrate on a country, I look for what makes it most different from neighbouring countries and can be found nowhere else. Reading, meetings and several visits permit this approach.

A different Angle
Faraway countries may be very exotic but this fact does not belittle reports on neighbouring countries. When I had the occasion to start work on England it seemed the ideal opportunity for an all-round deepening of my research. Close up, everything seemed familiar, but I found it interesting to see this very familiarity from a different angle.
The familiar allows reflection on our daily life. The commentary is not descriptive but rather a mirror reflecting each individual personality.

It takes time
My task consists of crossing the country, immersing myself in its culture and observing and capturing the elements that best express its character. To make an 80-minute film I need to film about 10 hours during trips of varying lengths over four or five years. I travel by camper van in order to be as close as possible to my subject at the right moment. I usually work alone, as patience is the operative word. Opportunity and chance, and especially light, are my working partners, but I do have time on my side.

Urgency
In today's world, modern work 'administrators' would not be able to proceed in this way. Information is processed instantly. Million-dollar television crews travel the world to produce rapidly-edited reports in time for the Evening News Bulletin, often covering only one subject, usually out of context.

A Real 'One-man-Show'
In my reports I try to capture the essence of the country as a whole. When I present my film I have two hours to win over my audience. As well as personally choosing images and sounds, I also write the script. The strength of the film lies in this unity. I am the author and creator of the work from beginning to end, even on stage where I present the film in person !